Interventional Neurology Journal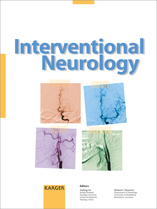 Now indexed in PubMed!
The Society of Vascular and Interventional Neurology (SVIN), encourages you to submit your research and articles to the Society Journal, Interventional Neurology!
Click here for guidelines and online manuscript submission details.
About the Interventional Neurology Journal
'Interventional Neurology' is aimed primarily at reporting clinical and laboratory studies on endovascular techniques and other interventional studies in the management of stroke with special emphasis on neurological disorders such as cerebrovascular diseases, intracranial tumors and diseases of the spinal cord. Contributions related to the intervention of neurological diseases from other specialties such as angiology, neurology, neuroradiology and neurosurgery are also welcome.
For questions regarding manuscript submission to the Journal, please contact info@karger.com.
Already a member of SVIN? Access the journal by visiting the SVIN website and use your login information and select the 'Interventional Neurology Journal' tab located on the Members' Only page.
Not a Member? Click here to join SVIN and take advantage of member benefits including full online access to all issues of the Interventional Neurology Journal!