---
SVIN Announces Stroke: Mission Thrombectomy 2020

NEW YORK - This initiative was announced at the recent SVIN 2016 Annual Meeting in New York. SVIN Mission Thrombectomy 2020 is an initiative to enhance global efforts to improve stroke care worldwide by increasing the rate of stroke thrombectomy for eligible patients from less than 100,000 procedures today to 202,000 annually by 2020 and thereby reducing global stroke disability. View full details here.
---
New Award to Advance Research in Stroke, Cerebrovascular Disease
MINNEAPOLIS – The American Academy of Neurology (AAN), the American Brain Foundation and the Society of Vascular & Interventional Neurology (SVIN) have announced a new award that will advance research in interventional neurology to benefit people with stroke and other cerebrovascular diseases. Interventional neurologists use minimally invasive techniques, guided by imaging, like clot removal procedures, to treat diseases of the brain and spine.
Please CLICK HERE for complete award details.
---
PRESS RELEASE: FDA Allows Marketing of Clot Retrieval Devices to Reduce Disability in Stroke Patients
CLICK HERE to view the full press release and article.
---
Submit to the Interventional Neurology Journal today!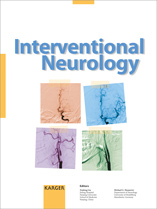 Now indexed in PubMed!
The Society of Vascular and Interventional Neurology (SVIN), encourages you to submit your research and articles to the Society Journal, Interventional Neurology!
Click here for guidelines and online manuscript submission details.
---
---