President's Address
Dear friends and colleagues,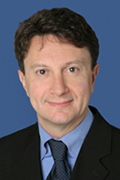 Italo Linfante, MD, FSVIN, FAHA
Miami Cardiac and Vascular
Institute and Baptist
Neuroscience Institute
More Info & Bio
Thanks to all of your hard work and passion, SVIN has grown tremendously over the past 10 years. Today, we are without any doubts a major player in the field of Stroke Treatment.
I am very proud to say that the list of major accomplishments by the Society is quite long. It has been indeed incredibly rewarding to witness the birth of a new field of medicine and surgery. NeuroEndovascular Surgery is now fully recognized as a medical specialty that treats cererbrovascular diseases from acute large vessels occlusions to brain aneurysms and vascular malformations using minimally invasive techniques. Thanks to the outstanding work of Dr. Jovin, the Chairman of NeuroEndovascular Surgery Accreditation Committee (NESAC) and Dr. Zaidat, physicians who completed residency in Neurology and Fellowships in NeuroCritical Care and/or Stroke after completing a Fellowship in NeuroEndovascular Surgery can receive a certificate from the American Board of Neurology. This certificate will allow us to practice this specialty at the highest level and with the same recognition as our Radiology and Neurosurgery colleagues.
The SVIN Annual Meeting has traditionally been the crown jewel of SVIN. In particular, the SVIN 10th Annual Meeting was outstandingly organized and chaired by Dr. Thanh Nguyen. The meeting had record number attendees, including interventional neurologists from more than 20 countries around the globe (Belgium, Brazil, Canada, Denmark, Egypt, France, Germany, Hong Kong, India, Ireland, Israel, Japan, Republic of Korea, Mexico, Netherlands, Peru, Philippines, Poland, Qatar, Singapore, Spain, Thailand, Turkey, and United Kingdom). At the SVIN 10th Annual Meeting there were too many remarkable moments to mention. However, I believe that none of us will ever forget the moment when our former presidents, Dr. Raul Nogueira and Dr. Tudor Jovin, presented the results of DAWN at the same time as the manuscript was published in the New England Journal of Medicine.

Equally successful have been our Annual Stroke Center Workshops. Initially conceived by Dr. Janardhan, last year was chaired by Drs. Devlin and Alexandrov, the 4th Annual Stroke Center Workshop attracted a total of 160 attendees who through the course of 1.5 days had in-depth discussions about the current and future stroke systems of care models and challenges.
We are very much looking forward to the SVIN 11th Annual Meeting in San Diego chaired by Dr. Hassan. The meeting will have a new format and I am sure will be extremely successful. Please make plans to join us in San Diego November 14-17, 2018!
With regards to advancing our field through solid scientific evidence, SVIN members' contributions have always been remarkable. Highly talented members of our Society made major contributions in the randomized clinical trials that for the first time in the history of Neurology have revolutionized the way we treat stroke. Among the many, it is worth mentioning the following: SWIFT, TREVO-2, SWIFT Prime, REVASCAT, ESCAPE, DAWN and DEFUSE 3.
Thanks to the hard work and talent of many SVIN members, the treatment effect of Endovascular Thrombectomy is at the highest it has ever been documented in the history of Neurology and Cerebrovascular Diseases. Thanks to the outstanding work and contribution of our SVIN colleagues, for the first time, stroke patients can hope for a future free of disability.

Congratulations to the 2017 SVIN Awardees:

Distinguished Service Award (Previously called Honorary Award)
2017 - Raul Nogueira, MD, FSVIN (in recognition of his substantial service to SVIN)

Pioneering Award
2017 - Neurology - Anthony Furlan, MD (in recognition of his outstanding contributions to the field of Interventional Neurology)
2017 - Neurointerventional - Adnan Qureshi, MD (in recognition of his outstanding contributions to training and mentoring of Interventional Neurologists)

Innovation Award
2017 - Arani Bose, MD (in recognition of his innovation in the field of Interventional Neurology)

Young Investigator Award
2017 - Kunakorn Atchaneeyasakul, MD

Best Abstract Award
2017 - Ashutosh Jadhav, MD, PhD

Pilot Grant Awards
2017 - Eva A. Mistry for her Research Project entitled 'Blood Pressure after Endovascular Stroke Therapy'
2017 - Radoslav Raychev for his Research Project entitled 'SEACOAST 1 randomized phase 2b trial'

SVIN is working in close collaboration with other societies to advocate for the interest of our patients, members, and advance our specialty. In particular, we have to acknowledge the collaboration with the SNIS leadership, the CV/AANS leadership, WFITN, WSO, and many others.
Another exciting development that will shape the future of SVIN is the inclusion of non-interventional members on both the Board and on the Executive Committee. In fact, the next President of SVIN will be Dr. Liebeskind. The list of Dr. Liebeskind's accomplishments is too long to mention. He is without any doubts a leader in the field of Cerebrovascular Diseases. We are absolutely thrilled to have him now as President-Elect and as the first non-interventional President of the Society starting in 2020.
Our Interventional Neurology journal continues its growth with the support of the great scientific data promoted by our membership. The number of submissions to our journal has doubled since last year and continues to grow. A taskforce has been recently initialized with the goals of decreasing manuscript revision times, restructuring the Editorial Board by incorporating more SVIN members, and establishing a goal of acceptance to "PubMed ahead of print" of 3 weeks maximum.
In line with the SVIN mission of promoting research, under the leadership of Dr. Yavagal and other SVIN members, we partnered with AAN to grant the AAN-SVIN Joint Clinician-Scientist Development Award (CSDA). In addition, Dr. Yavagal in the fall of 2016 announced Mission Thrombectomy 2020 (MT2020), a very exiting project to promote high-level stroke care world-wide.

Another exciting project that is taking shape thanks to the leadership of young talented members of the society is the SVIN Research Taskforce in charge of developing the SVIN Endovascular Stroke Treatment Outcome Registry (SESTOR). Among the aims is also to organize a SVIN Consortium for future studies and clinical trials.
After this long list of accomplishments, I need to briefly mention our challenges. In my humble opinion, these are the challenges of a fast-growing successful Society. It was six years ago that Dr. Yavagal during his presidency worked with the SVIN Board to conduct the first SWOT analysis. The Society is growing and evolving, and it is time to conduct a new SWOT analysis. We will be honored to present this current SWOT analysis to the Executive Committee and subsequently to the Board of Directors in 2018.
As always, we strongly encourage the new SVIN members to be involved, support and help us advance stroke care and stroke research. We are blessed to have a large number of very talented young Interventional and Stroke Neurologists. Therefore, please come forward; SVIN needs your talent. You will be the next generation of SVIN leaders.
Sincerely yours,



Italo Linfante, MD, FAHA, FSVIN
President, SVIN