Meetings & Events

Difficult times ask for creative solutions, which may also open new avenues for a better future. Accordingly, SVIN has decided to organize and offer a Virtual Conference April 29-30, 2020 to offer the neurology community the opportunity for education, scientific news, and best practice exchange without leaving home.
COVID-19 is putting society under an incredible health, emotional, and economic burden. We must stay positive, strong, and united more than ever to overcome this crisis. In an attempt to mitigate the consequences of the pandemic, SVIN would like to offer on-line participation in the SVIN Break 2020 Conference.
CLICK HERE to learn more!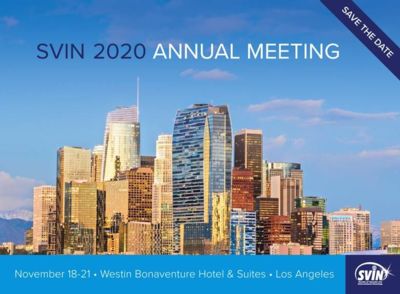 Please join us for our 13th Annual Meeting, taking place November 18-21 at the Westin Bonaventure, in Los Angeles, CA
CLICK HERE to learn more!
REGISTRATION: COMING SOON!
EXHIBITOR REGISTRATION: COMING SOON!