2018 Award Recipients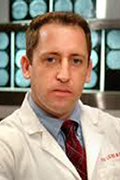 Congratulations Dr. David S. Liebeskind, MD, FAHA, FAAN, FANA, the recipient of the SVIN 2018 Neurologist Pioneering Award. David S. Liebeskind, MD, FAHA, FAAN, FANA is a Professor of Neurology at the University of California, Los Angeles (UCLA) where he is Director of Outpatient Stroke and Neurovascular Programs. He is Director of the Neurovascular Imaging Research Core, leading global efforts to advance data science and precision medicine of stroke imaging for prevention, acute therapies and recovery after stroke.
He is Director of the UCLA Cerebral Blood Flow Laboratory, Associate Director of the UCLA Stroke Center and Director of the UCLA Vascular Neurology Residency Program, training the next generation of vascular neurologists and stroke experts. He has advanced education, research and clinical care of stroke at UCLA since 2004. Dr. Liebeskind currently serves as a member of the WSO Board of Directors, volunteering his experience and interests in advancing stroke care around the world. He directs the annual International Symposium on Collaterals to the Brain (www.collateralperfusion.org) where a diverse array of colleagues and collaborators meet in person and remotely from around the world to advance the science and practice of hemodynamics in cerebrovascular health. Other leadership roles currently include his position as President-Elect of the Society of Vascular and Interventional Neurology (SVIN) and President of the American Society of Neuroimaging (ASN).

Congratulations Dr. Thanh Nguyen,MD, FRCP, FSVIN, the recipient of the SVIN 2018 Distinguished Service Award. Thanh Nguyen, MD, FRCP, FSVIN is the director of interventional neurology/ neuroradiology at Boston Medical Center (BMC) and Associate Professor of Neurology, Radiology and Neurosurgery at Boston University School of Medicine (BUSM).
Dr. Nguyen's clinical and research interests include acute intra-arterial therapies for stroke and brain aneurysm coiling / flow diversion. Dr. Nguyen served as the 2017 Acute Endovascular Treatment Section Chair of the International Stroke Conference and 2017 SVIN 10th Annual Meeting Chair, where the landmark DAWN endovascular stroke study was presented simultaneous with its online publication in the New England Journal of Medicine. She was awarded Boston Magazine Top Doctor in Neurology for 2017 and Be Exceptional Award for Boston Medical Center in 2018.

Congratulations Dr. Raul Nogueira, MD, SVIN, the recipient of the SVIN 2018 Innovation Award. Raul Nogueira, MD, SVIN is Director of Neuroendovascular Divisision - Marcus Stroke & Neuroscience Center. Dr. Raul Nogueira is an acclaimed interventional neurologist, specializing in neurocritical care and interventional neuroradiology. Dr. Nogueira completed medical school at the Federal University of Ceara in Brazil. He came to the Massachusetts General Hospital in 1999 where he completed his neurology residency and then fellowships in Neurocritical Care/Stroke, and Diagnostic and Interventional Neuroradiology.
Dr. Nogueira has extensive experience in the diagnosis, management, and treatment of neurovascular diseases including brain aneurysms, arteriovenous malformations, dural arteriovenous fistulas, pre-operative embolization of tumors and treatment of head and neck lesions including epistaxis. He also specializes in stroke prevention, which includes carotid and vertebral artery angioplasty and stenting, as well as acute stroke treatment with thrombolysis.

Congratulations Dr. Fernando Vinuela, MD, the recipient of the SVIN 2018 Interventional Pioneering Award. Fernando Vinuela is the Assistant Director of UCLA Radiology Mentorship program as well as Assistant Director of Translational Research Laboratory. He is a senior member of 23 National and International Medical Societies and the Founder, Senior Member and Past President of World Federation Interventional Neuroradiology.